Latest Car News (24th to 30th October 2016)
Another week passes us by and thus another week of news is born, including the announcement of the new Mercedes-AMG E 63, BMW 5 Series and the first shots of the new Jaguar XF Sportbrake.
BMW announce new 5 Series
The seventh-generation BMW 5 Series has been revealed.
Credit: TheWeek.co.uk
BMW's current generation 5 Series was launched back in 2010, so a new model was always inbound considering their cars' typical six-year cycle. So say goodbye to the F10 5 Series, and say hello to the all-new G30 5 Series. As you can see, the new model looks like a more refined, sharper, more modern version of the F30 3 Series.
The engine lineup consists of the usual BMW offering, from a 187 bhp 520d diesel to a 335 bhp 540i petrol capable of 0-62 mph in only 4.8 seconds. There will also be a 530e plug-in hybrid engine available, offering power of 249 bhp and efficiency of up to 142 mpg. The new 5 Series will arrive in February next year, with prices starting at £36,025 for the 520d and £46,645 for the 540i.
Mercedes-AMG reveal new E 63 AMG
The E 63 AMG has been unveiled ahead of its public debut at the LA Motor Show.
Credit: Mercedes-Benz.com
Mercedes' fifth-generation E-Class went on sale earlier this year and since then we've all been eagerly awaiting the hardcore AMG version. Well now we can finally see Mercedes-AMG's latest offering, after they officially revealed it - and what a car it is. Naturally it shares the same shape and styling as the normal E-Class, but with the more aggressive, beastly look that you'd expect with an AMG car.
The super saloon comes with the same 4.0-litre twin-turbo V8 as the AMG GT, but is available in two options: the E 63 and E 63 S. The former produces 563 bhp and a 0-62 mph time of 3.5 seconds, whilst the latter is capable of 604 bhp and 3.4 seconds. The E 63 and E 63 S saloons will go on sale from January 2017, with prices starting at £75,000 and £83,000 respectively. 
New Jaguar XF Sportbrake spotted
The new version of Jaguar's XF Sportbrake estate has been seen undergoing testing at the Nurburgring.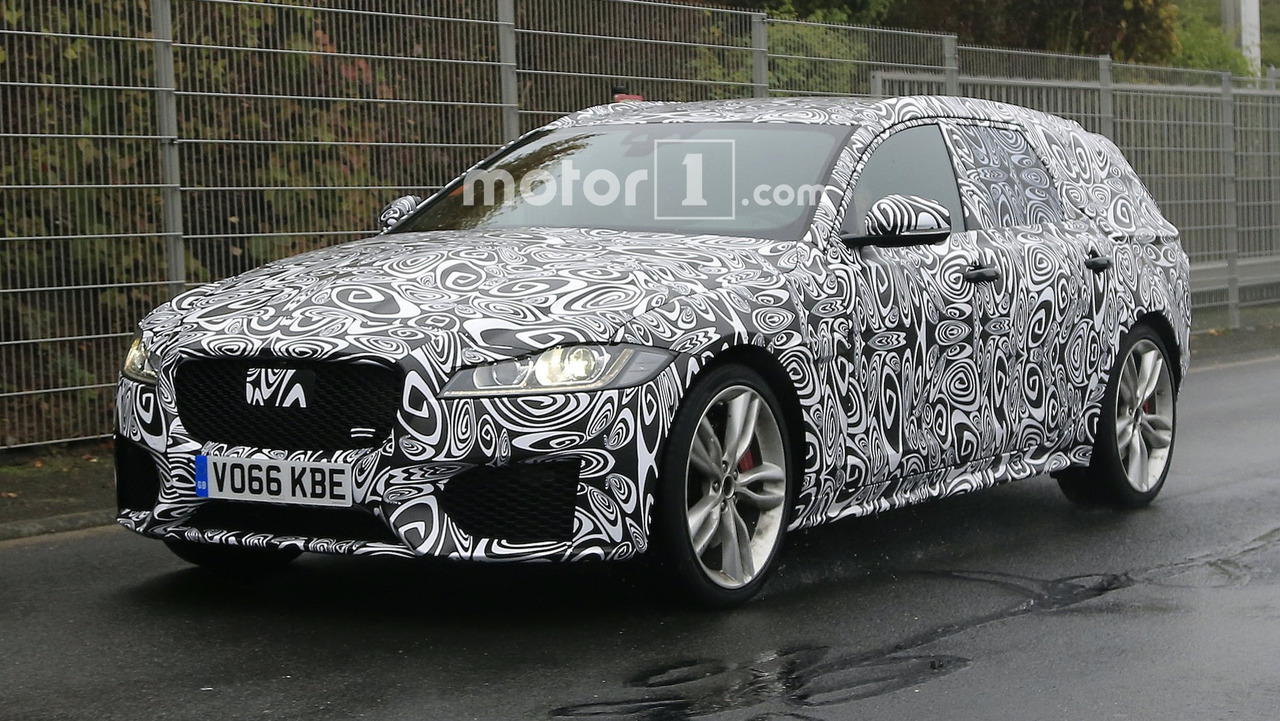 Credit: Motor1.com
Jaguar's second-generation XF saloon was released last year, and it looks as though an estate version is on the way after it was seen in Germany at The Green Hell. Although the car is disguised by the usual unrevealing camouflage, you can make out its recognisable Jaguar XF front-end. There is of course the addition of a high roofline to give it that typical estate look.
The available engines will be of course the same as the XF saloon, from a 161 bhp 2.0-litre four-cylinder diesel engine to a 376 bhp 3.0-litre supercharged V6 petrol. There is also the possibility of an SVR version, which'll mean a 5.0-litre supercharged V8 petrol under the hood. The new XF Sportbrake will launch next year, so expect its official unveiling to occur some time in the near future.
Hyundai mid-engined hot hatch spied
A hardcore Hyundai hatchback has been seen undergoing testing at the Nurburgring.
Credit: AutoExpress.co.uk
Earlier this year Hyundai revealed the RM16 N concept, a heavily tuned sports car that was based on the Veloster model and developed under their RM (Racing Mid-ship) program. There have been two other concepts previously in the RM14 and RM15, but neither of which hit production. The idea of the RM concept cars is to develop and test future high-performance technologies.
That being said, these shots could suggest they're doing just that: testing their technologies on-track. However it could also mean that perhaps they're ready to deliver a hardcore Veloster model, although it's more likely they're putting the 296 bhp 2.0-litre turbo four-cylicinder engine through its paces in preparation for the upcoming i30N. Either way, it looks like Hyundai are getting ready to dip their toes in the hardcore market!
Audi quits World Endurance Championship and Le Mans
The WEC is set to lose one of their best manufacturers after Audi confirmed they were switching to Formula E.
Credit: Fortune.com
Audi have officially revealed that they will end their participation and involvement with the World Endurance Championship at the end of the 2016 season, choosing to instead focus on the all-electric Formula E series. Their official reason for doing so came as a result of Audi feeling their presence in motorsport should reflect their production cars, although it's more likely that their parent company VW Group opted to cut their budget due to help towards the hugely-expensive VW emissions scandal.
The German manufacturers involvement in endurance racing stretches back 17 years to 1999 with massive success including 13 Le Mans wins. They were also the first manufacturer to win the 24-hour of Le Mans with a diesel-powered car, which really highlights their contribution to the sport. They'll no doubt be missed, but it should at least make next year's Formula E competition a bit more exciting.