Latest Car News (3rd to 9th October 2016)
The first week of September brings news of a special edition Range Rover, an extreme Mercedes-AMG C 63 coupe, and the World Car of the Year shortlist nominees!
Mercedes-AMG C 63 'R' spotted undergoing testing
The more extreme version of Mercedes' C 63 AMG coupe has been spied at the Nurburgring.
Credit: autotriti.gr
BMW's M4 is the direct competitor to the C 63 coupe, however unlike the C 63, there's already an hardcore version available in the shape of the M4 GTS. Mercedes look to be changing that, and bringing out an answer of its own in the shape of this - the C 63 R. In terms of looks the car is very similar to a 'normal' C 63, but with the addition of a chunky rear wing, a more aggressive front splitter and new alloys.
Under the hood the engine will remain the 4.0-litre twin-turbo V8, but with a small power increase to give it that extra bit of oomph. Considering the C 63 S is pushing over 500 bhp, you'd guess that the new power figure could be anywhere from 550 - 570 bhp. The details are understandably scarce at this moment in time, but expect more when the car is unveiled some time next year.
Overfinch unveil special edition Range Rovers
Two special edition Range Rover SUVs have been revealed by Overfinch.
Credit: Overfinch.com
British company Overfinch have been known for customising Range Rovers since 1975, and their latest creations come in the form of these: the London Edition and Manhattan Edition Range Rovers. Both of them come with a beastly carbon fibre body kit, as well as an unbelievably luxurious interior in which images of London and Manhattan are etched into their respective marquetry.
Under the hood is the same 5.0-litre supercharged V8 that exists in the Range Rover sport, meaning over 500 bhp at your foot whenever you ever need it. The price tag is pretty hefty for all this however, with each model costing a whopping £250,000. That is quite obviously a huge figure to pay, however with over 250 hours going into the interior alone!
Lotus announce most extreme Exige ever
A limited-edition Lotus Exige has been revealed.
Credit: TopGear.com
Built to mark the company's 50th anniversary, the Lotus Exige 350 Special Edition receives a whole host of changes to celebrate the occasion. The first change is its weight, where it sheds 26 kg compared to a normal Exige Sport 350 as a result of special panels, different pipework, a lighter battery, and some more small bits and pieces.
Under the hood is the same 345 bhp 3.5-litre V6 as the Sport 350, but with an improved 0-62 mph time of 0.1 seconds due to the reduction in weight. It comes with a six-speed manual gearbox, revised body panels, firmer dampers and further handling adjustments. Prices start at £61,900 each with four colour choices available: Motorsport Black, Dark Metallic Grey, Old English White and Essex Blue.
Caterham team up with Harrods to produce special Seven
A special edition Caterham Seven is on the way as a result of a collaboration with Harrods.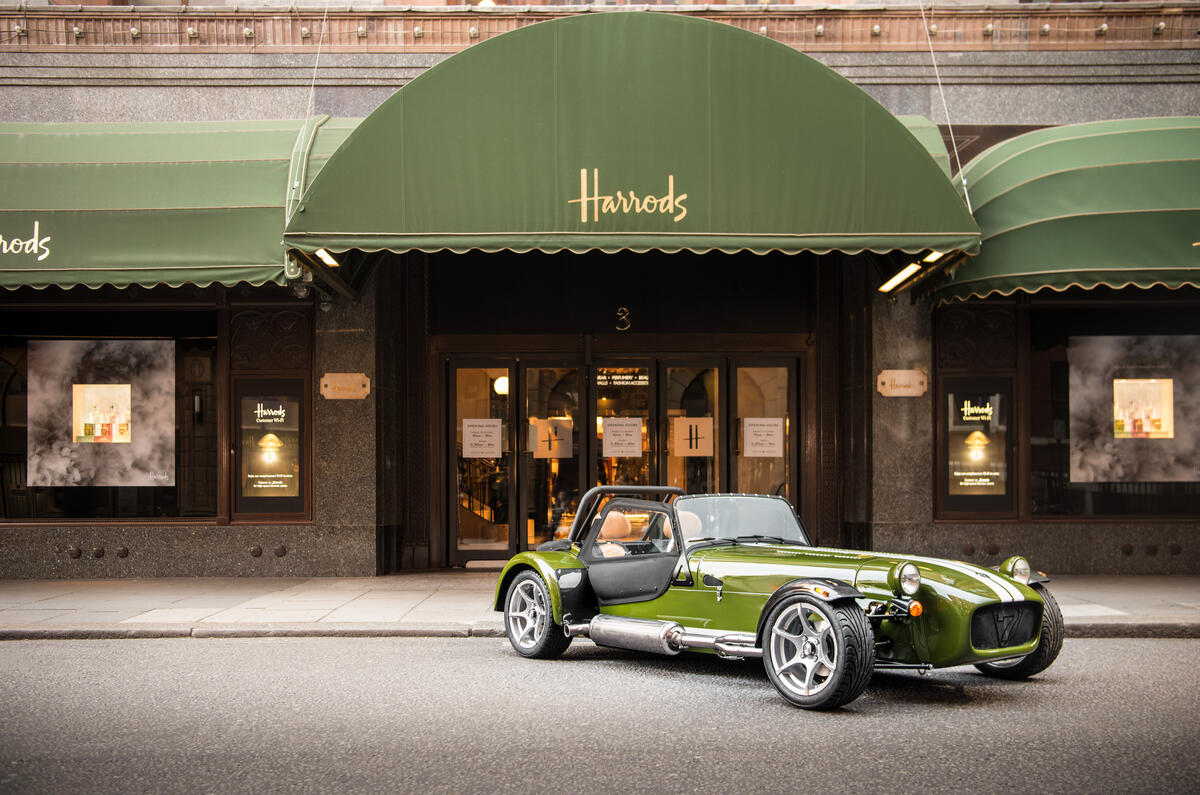 Credit: Autocar.co.uk
Car manufacturer Caterham have teamed up with fellow Brit Harrods to launch a new personalisation programme known as Caterham Signature. The program brings a new special edition Caterham Seven model that was initially based on the 420S, but is instead finished in Harrods green with white stripes running down the car.
The interior is then finished in butterscotch leather, with Harrods-embossed seats and the letter H on the gear knob. There's also a gold powder-coated chassis underneath, which is pretty classy. The engine remains the same 207 bhp 2.0-litre four-cylinder engine via a six-speed manual, and each model costs almost twice that of a normal Caterham Seven 420 at £59,999.
World Car of the Year 2017 nominees revealed
The nominees of this year's World Car of the Year have been announced.
Credit: AutoExpress.co.uk
There are a total of 23 cars on the shortlist, with notable models being Audi's A5/S5 coupe, Q2 and Q5, Volkswagen's Tiguain, Honda's latest Civic, Subaru's Impreza and Jaguar's F-Pace. The rest are made up of Buick, Chevrolet, Infiniti, Mazda, Toyota, Hyundai, Kia, SsangYong, Skoda, Fiat and SEAT models - so nothing that important then (heh).
There's also the World Luxury/Performance Car of the Year category, which definitely appeals to us more. Standout names include the Audi R8 Spyder, BMW 5 Series, Mercedes E-Class and AMG Roadster, Porsche 718 Boxster/Cayman, Honda NSX, Lexus LC500, Bentley Bentayga and the Range Rover Evoque Convertible.
The results won't be revealed until April next year, but if we was to choose, we'd go for the Jaguar F-Pace for World Car of the Year and Mercedes-AMG Roadster for World Luxury/Performance Car of the Year. What about you?