Latest Car News (25th April to 1st May 2016)
Another week, another post! More car news for you folks including a supercar-beating TT RS, the new Porsche 718 Cayman and a record-breaking Golf GTI!
New Porsche 718 Cayman arrives
The new Porsche Cayman - now dubbed the 718 Cayman - has been officially unveiled at the Beijing Motor Show.
Credit: Pocket-lint.com
The 718 Cayman will be powered by a choice of two four-cylinder turbo engines, depending on which model you go for. The entry-level is a 296 bhp 2.0-litre engine, whilst the faster, more powerful 'S' version will have a 2.5-litre capable of 345 bhp. These figures mean that the car does 0-62 mph in 4.7 seconds and 4.2 seconds respectively, with a top speed of 170 mph and 177 mph.
Other changes include updated springs and dampers, wider rear wheels, quicker steering, and more. The two-seater mid-engined car is available to order now with prices starting from £39,878. The first round of deliveries are expected to arrive in autumn, so it shouldn't be too long before you see them on the roads.
2016 Audi TT RS unveiled with supercar performance
The next generation of Audi's TT RS has arrived with ridiculous performance figures that push it right into supercar territory.
Credit: CarMagazine.co.uk
So, what figures are we talking? Well the first is that the car is powered by a reworked 2.5-litre five-cyclinder turbo capable of an impressive 394 bhp. The more astonishing figures however are the fact it does 0-62 mph in 3.7 seconds - that's only 0.1 seconds slower than the previous generation 5.2-litre V10 R8 Spyder!
The new TT RS also receives a load of external and internal changes, with a newly designed front grille, rear diffuser and wing, twin elliptical exhausts, optional Matrix LED or OLED lights, and more. There's also improved suspension, a seven-speed dual clutch gearbox and huge 370mm disc brakes. The price is yet to be confirmed but it's expected to start at around £45,000.
Volkswagen Golf GTI Clubsport S revealed
Volkswagen have taken the wraps off their hardcore two-seater Golf GTI Clubsport S and it brings record-breaking Nurburgring figures to go with it.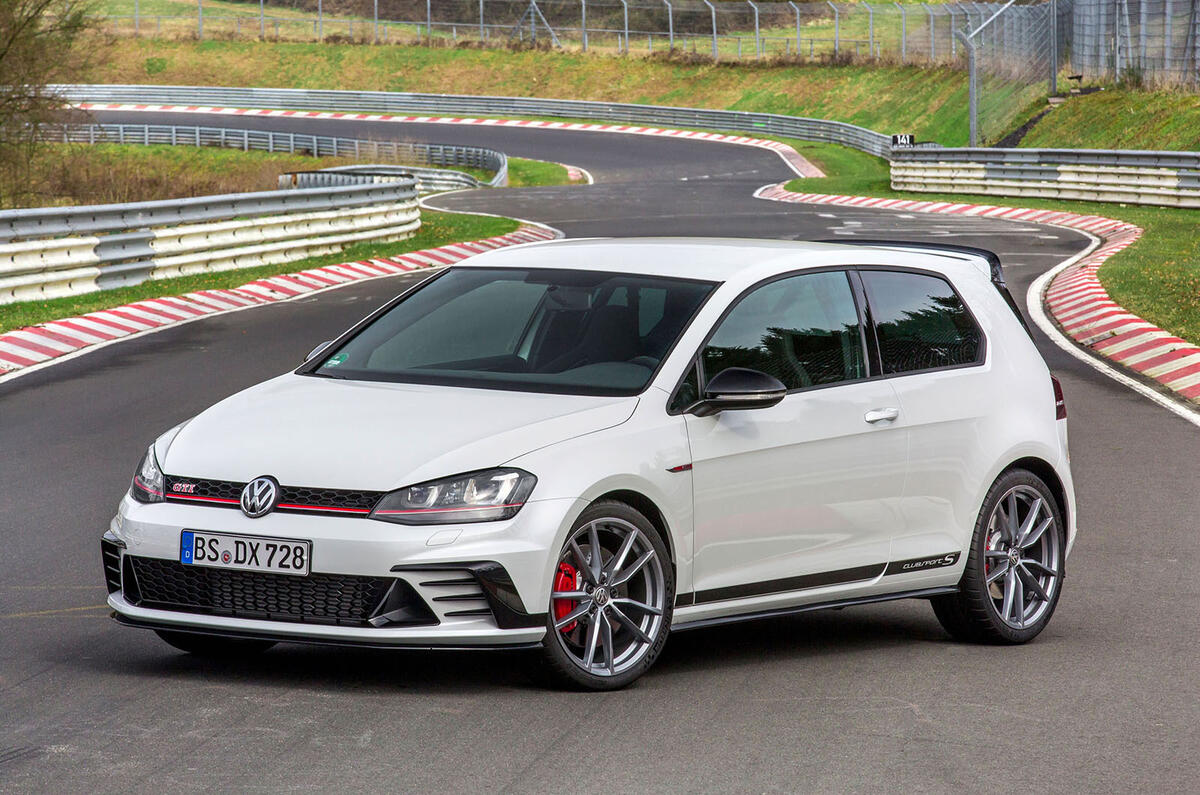 Credit: Autocar.co.uk
The 'normal' GTI Clubsport was revealed last year and came with 286 bhp and a 0-62 mph time of 5.9 seconds from its 2.0-litre four-cylinder turbo, however that same engine has been given a retune meaning the Clubsport S now packs 306 bhp and a 0-62 mph time of 5.8 seconds. The most impressive figure though has to be it's Nurburgring lap time - an astounding 7m 49s making it the fast front-wheel-drive production car ever made.
The Clubsport S can come finished in three colours: red, white and black, with them all being original paint codes taken from the MK1 GTI. A nice touch you have to say. All of the choices compliment its tweaked front bumper, rear diffuser and roof spoiler nicely. Inside the car has bucket seats, bespoke 'Honeycomb 40' decals and an Alcantara-trimmed steering wheel. Nothing more is known about the car yet, but you can estimate it'll arrive later this year and cost around £35,000.
New BMW X3 SUV render emerges
The latest BMW X3 will be arriving next year and we now have our first image of how the car is likely to look.
Credit: AutoExpress.co.uk
The image, courtesy of the folks over at AutoExpress.co.uk, shows sharper headlights, reshaped front and rear bumpers, a dominating kidney grille and a generally beefier look. Engine wise you can expect the car to come with the same options that they currently offer across their range, with both for and six-cylinder turbos available in either diesel or turbo form.
We could also see the arrival of a plug-in hybrid, perhaps taken from the 330e saloon, which would be a first for the X range. We appreciate that hybrids aren't the sort of thing that gets us petrolheads excited (unless they're in a hypercar, of course) but the news that the M Division are likely to develop an X3 M, well that just might! Nothing has been officially confirmed about the X3 as of yet, but we expect more to arrive as the year progresses.
Platinum Edition Porsche Cayenne now available
Porsche have revealed a new special edition Cayenne known as the 'Platinum Edition'.
Credit: MotorTrend.com
The chunky SUV gets a sportier look as a result of wider wheel arches, privacy glass, 'RS Spider' 20-inch alloys, tinted windows and a load of small but significant glossy exterior touches. Inside the upgrades continue with heated electric leather and Alcantara sport seats, bespoke door sills, auto-dim mirrors, front and rear Park Assist, a Bose surround sound system plus more.
It'll be available in eight different colour choices (although you'd struggle not to go black considering how great it looks) with prices starting at £55,154 - that's £2,465 more than the standard model. The Platinum Edition is available to order now with the first set of arrivals pencilled in for June.