Latest Car News (4th July to 10th July 2016)
A fantastic week of car news brings some unbelievable cars, such as the Aston Martin-Red Bull hypercar, the first photo of the new LaFerrari Spider, and two new Renault Sport cars!
New LaFerrari Spider finally revealed
The open-top version of Ferrari's LaFerrari has officially been unveiled.
Credit: TopGear.com
A few weeks ago we wrote about how Ferrari confirming that the hypercar was well and truly on the way, but that no photos had been released yet. Fast forward a few weeks and we now have some great shots of how the drop-top will look - and it's just as stunning as you'd imagine. Whilst the looks remain fairly unchanged, the inclusion of a retractable roof is evident.
It's likely to be named the LaFerrari Aperta, which directly translates to 'open' in Italian, and you'd have to say it'd be a pretty enjoyable thing driving along with the roof down listening to that 950 bhp 6.3-litre V12. If you are fortunate to have well over £1 million sitting around to buy one, you'll be disheartened to learn that in typical Ferrari fashion, all 150 models have already sold out. Dammit!
Aston Martin-Red Bull collaborative hypercar unveiled
The birth child of Aston Martin and Red Bull has finally been revealed to the public and it's just as ridiculous as you'd expect.
Credit: AstonMartin.com
Introducing the AM-RB 001; an Aston Martin hypercar developed alongside the Red Bull Racing Formula One team. The mechanics of this beast is just as impressive as its looks, with a load of F1 technology powered by a mid-mounted naturally aspirated V12. Although no official figures have been released just yet, it's expected to be around 900 bhp and weigh around 900 kg!
The goal when developing the car was to enable it "to lap Silverstone as quick as or quicker than an F1 or LMP1 car" which sounds inconceivable, but time will tell if they've done it. Two versions of the AM-RB 001 will be available on release, a road version and a track-only version, with the track-only model focusing on that LMP1-like speed. Prices are estimated to be around £2 million with the car launching in 2018, so we'd better get saving!
New Renault Megane RS in development
Renault Sport's latest Megane offering is in the works with a 2018 release date expected.
Credit: AutoExpress.co.uk
Whilst no official confirmation has emerged yet, the computer boffins at AutoExpress have put together exclusive images of how the car could look when it arrives. Sporting a typical Megane shape, the car is then beefed up by chunkier wheel arches and bumpers and topped off with some large, aggressive alloys.
It is expected that the car will only be offered in a five-door model, and will be powered by an all-new 2.0-litre turbo four-cylinder engine capable of more than 300 bhp. There's also rumours suggesting it'll be powered by a four-wheel-drive system in an effort to put all that power down, and thus give it the all-round performance drivability you'd expect from an RS car. Exciting times ahead for Renault!
Renault Clio RS facelifted
More Renault news for you all is this: the Clio RS has been given a facelift.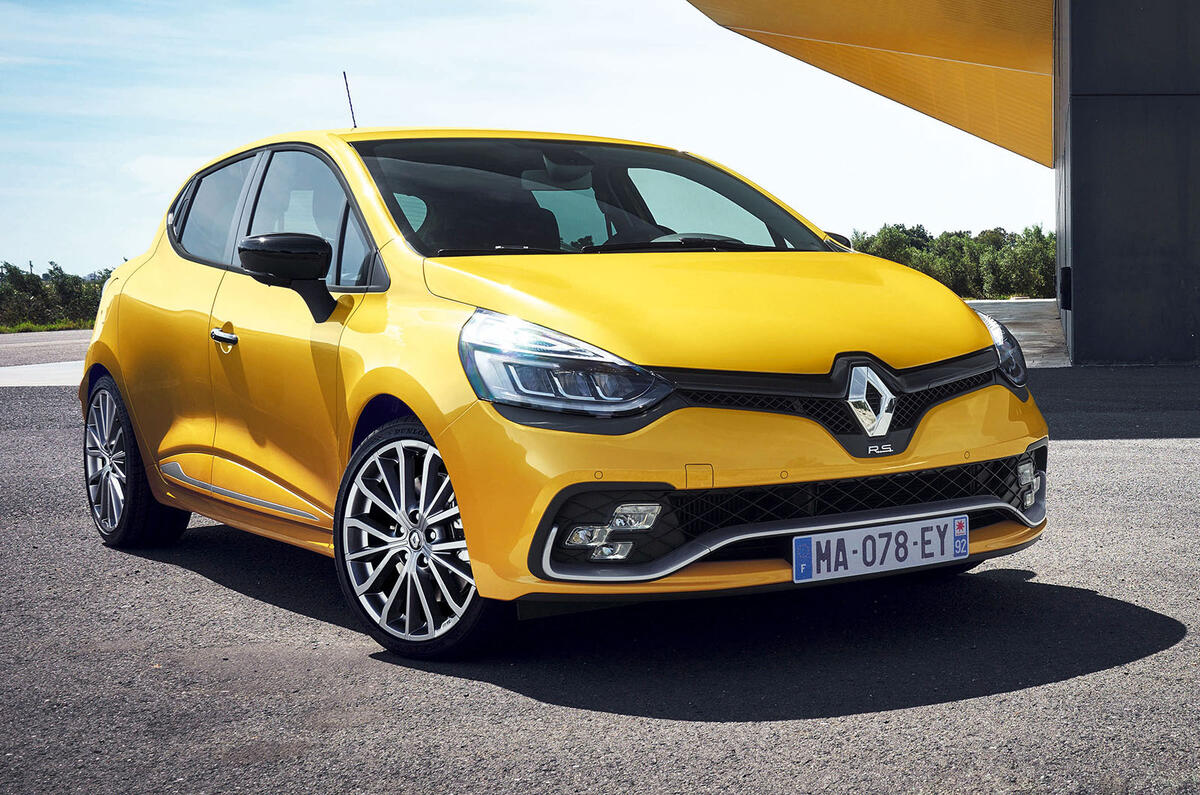 Credit: Autocar.co.uk
The current Clio RS has been out since 2013, and after Renault recently revealed the facelift for the standard Clio, they've now gone and done the same for the Renault Sport version. Subtle changes to the exterior include the addition of LED lights on the front bumper, a twin-tip exhaust system, updated rear diffuser, roof spoiler and rear lights, and new alloy wheels too.
Power output remains at 197 bhp for the standard RS, whilst the Trophy - an uprated version that comes with the 18-inch wheels, lowered suspension, and a tasty new Akrapovic exhaust system - is pushing 217 bhp. The revised Clio RS will go on sale in a few months with the first arriving later this year. Prices starting at at around £18,995 for the standard and £20,995 for the Trophy.
Rolls-Royce release first teaser image of new Phantom
The next-generation Phantom saloon is very much on the way and Rolls-Royce have teased us all by releasing a rather mysterious teaser image.
Credit: Msn.com
The photo really doesn't reveal much, and seems to show the all-new aluminium chassis and frame being worked on inside the headquarters of Rolls-Royce in Goodwood, West Sussex. Other than that there's not much being given away, leaving a lot of us scratching our heads in anticipation for its official reveal later this year.
Reports suggest the eight-generation Phantom is likely to include a load of advanced technology and features from the 7 Series due to them being a subsidiary of BMW. It's also expected to use the traditional V12 engine that have become synonymous with their cars, although a plug-in hybrid is on the cards too. The new Phantom will launch in 2018, so you can expect more news to emerge as the year progresses.